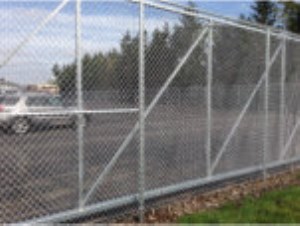 Chain link fences are versatile and serve various purposes. Here are the top uses for chain link fences:
Security Perimeters: Used around industrial areas, businesses, and homes to deter unauthorized access and protect assets.
Residential Fencing: Commonly used in backyards to define property boundaries and keep pets and children safe.
Sports Arenas: Surrounds tennis courts, baseball fields, soccer fields, and other sports areas to contain balls and define play zones.
Construction Sites: Temporarily erected around construction zones to ensure safety and prevent unauthorized entry.
Agriculture: Used to enclose livestock or designate specific grazing areas.
Public Areas: Installed around parks, schools, and playgrounds to ensure safety and designate specific zones.
Highway and Railway Barriers: Helps prevent animals and pedestrians from entering dangerous areas.
Airports: Secures the perimeter, ensuring unauthorized personnel and animals stay out.
Prisons and Military Bases: Provides a security barrier to prevent unauthorized exits and entries.
Wildlife Barriers: Used to prevent wildlife from accessing highways or residential areas, reducing the risk of accidents.