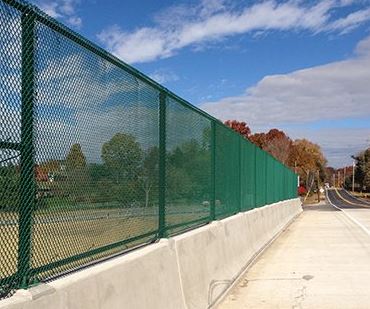 Vinyl Coated Fabric Chain Link Fences
Architectural Color Coated Fabric
Architectural color coated chain link systems have become more popular as an economical way to provide a visually appealing barrier. These chain link systems blend into the surroundings and provide minimal obstruction to the natural scenery. Our vinyl coated fabric helps our chain link fences stay strong for decades in even the toughest of weather.
Different Grades of Ornamental Color Coated Fabric:
Residential

Residential fabric is usually an extruded product with the option of 2 gauges:

Standard Residential: 9-gauge finish with a 12-gauge steel core (Good)

Heavy Residential: 8-gauge finish with an 11-gauge steel core (Best)

The Heavy Residential has a heavy gauge steel core and will be more durable for applications that involve more activity such as providing a boundary for pets or children playing sports involving a ball that may hit the fence.

Commercial/Industrial

Commercial fabric is normally fused and bonded with an 8-gauge finish and 9-gauge steel core. 9-gauge steel is the standard for commercial fencing. It becomes an 8-gauge finish after the ornamental color coat is applied.

Standard Colors
Custom colors of our vinyl coated fabric fences are available upon request, please contact us via phone number or our contact page.