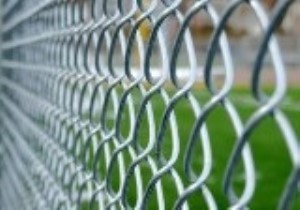 Galvanized Before Weave (GBW)
Galvanized before weave fencing or "pre-galv" wire has the attractiveness and durability of aluminized at around the same cost as traditional chain link fencing. The pre-galvanizing process eliminates the occurrence of unsightly zinc "icicles", making installation easier and safer.
If you've ever cut your hand or caught your shirt on a chain link fence, then you know that the jagged little protrusions left over from the galvanizing process can be a pain, or even dangerous. That's why Sharon Fence is proud to be a supplier of GBW fencing— a cleaner, more consistent alternative to traditional galvanized after weave (GAW) wire.
Just like the name says, GBW wire is hot-dip galvanized strand by strand, resulting in a smooth finish every time. With GAW, the whole woven mesh is galvanized, causing drippage, zinc "icicles", and a frozen mesh that can be hard to stretch during installation.
Galvanized before weave fencing is a great option for:
Playgrounds

Ball Parks

Kennels

Residences

Schools
Reach out to us via our contact form or call the Sharon Fence location closest to you for more information. We are happy to help you find a fencing solution for your project and sort through what fencing type is best for you.