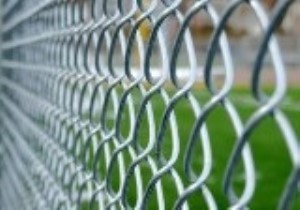 Galvanized Chain Link Fence
Galvanized Before Weave (GBW) or "Pre-Galv" wire has the attractiveness and durability of aluminized at around the same cost as traditional chain link. The pre-galvanizing process eliminates the occurrence of unsightly zinc "icicles", making installation easier and safer.
If you've ever cut your hand or caught your shirt on a chain link fence, then you know that the jagged little protrusions left over from the galvanizing process can be a pain, or even dangerous. That's why Sharon Fence is proud to be a supplier of Galvanized Before Weave (GBW) wire, a cleaner, more consistent alternative to traditional Galvanized After Weave (GAW) Wire.
Just like the name says, GBW wire is hot dip galvanized strand by strand, resulting in a smooth finish every time. In contrast, with GAW, the whole woven mesh is galvanized, causing drippage, zinc "icicles", and a frozen mesh that can be hard to stretch during installation.
Galvanized chain link fences are a great option for
Playgrounds

Ball Parks

Kennels

Residences

Schools
See our dedicated galvanized before weave fence page for more information.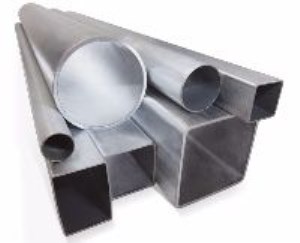 Frameworks
Sharon Fence Company supplies a wide variety of framework products to meet the needs of the industry that meet ASTM F1043 and ASTM F1083 standards.
Framework products that we supply:
Residential grade: 0.065 Tubing and SF15

Commercial grade: SF20 and F1043 SF40

Industrial grade: F1083, Schedule 40…(also referred to as Standard Weight)
We stock galvanized framework at all locations. We also stock select items in standard colors of black, brown, and green polyester powder coat and PVC Heavy Mill. We can color match and special order just about any color needed.
We proudly distribute American-made products from Wheatland Tube and other domestic manufacturers.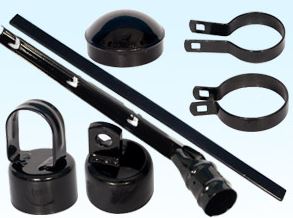 Fittings
At Sharon Fence, we carry a whole line of galvanized chain link fittings. We also stock large selection of color coated fittings, either in polyester powder coating or heavy mill finish. Standard colors include black, brown, and green.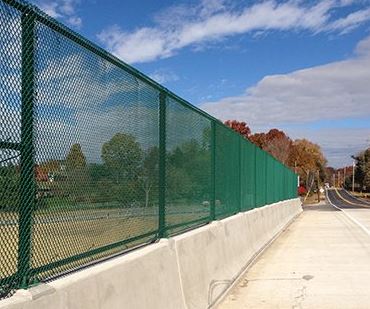 Vinyl Coated Fabric
Architectural Color Coated Fabric
Architectural color coated chain link systems have become more popular as an economical way to provide a visually appealing barrier. These systems blend into the surroundings and provide minimal obstruction to the natural scenery. Our vinyl coated fabric helps our chain link fences stay strong for decades in even the toughest of weather.
Different Grades of Ornamental Color Coated Fabric:
Residential

Residential fabric is usually an extruded product with the option of 2 gauges:

Standard Residential: 9-gauge finish with a 12-gauge steel core (Good)

Heavy Residential: 8-gauge finish with an 11-gauge steel core (Best)

The Heavy Residential has a heavy gauge steel core and will be more durable for applications that involve more activity such as providing a boundary for pets or children playing sports involving a ball that may hit the fence.

Commercial/Industrial

Commercial fabric is normally Fused and Bonded with an 8-gauge finish and 9-gauge steel core. 9-gauge steel is the standard for commercial fencing. It becomes an 8-gauge finish after the Ornamental color coat is applied.

Standard Colors

Black

Brown

Green

Custom colors are available
See our dedicated vinyl coated fabric fence page for more information. 
Aluminized Fabric
Meets specifications:
ASTM A491

A 817

Federal specification RR-F-191 Type II

AASHTO M-181 Chain Link Fence, Type II