Sharon Fence: Your Trusted Chain Link Fence Manufacturer in the USA
At Sharon Fence, we pride ourselves on being one of the premier chain link fence manufacturers in the USA.
Our commitment to quality and durability is evident in every link we weave. Whether you're in the market for a traditional chain link fence or vinyl coated chain link fence, we've got you covered.
As a leading chain link fence manufacturer, we listen to and understand the unique needs of our customers.
We weave and distribute Galvanized and PVC coated chain-link fabric. These coatings not only enhance the aesthetic appeal of the fence but also add an extra layer of protection against the elements.
Join our satisfied customers across the nation who have chosen Sharon Fence, the trusted source among chain link fence manufacturers in the USA. Experience the difference in quality, durability, and style with our unparalleled fencing solutions.
Sharon Fence: A Contractor's Gateway to Diverse Chain Link Fencing Solutions
We have the fabric variety you need to cover your upcoming project. We manufacture and distribute an extensive range of fencing types to suit every aesthetic and functional need. Traditional galvanized steel chain link fencing remains a timeless choice for many, providing durability and a classic appearance.
Contractors will be pleased to find that our vinyl chain link fence is available in several colors, including white, green, black, and brown. This not only allows for a tailored aesthetic appeal but also provides an added layer of resilience against potential wear and tear. Furthermore, we understand that different projects require different strengths, which is why we offer various gauges of chain link fence, ensuring optimal sturdiness for every application. With Sharon Fence, the possibilities are as vast as your imagination.
Sharon Fence: Your Comprehensive Chain Link Fencing Distributor
Sharon Fence stands tall not just as a U.S. based chain link fence manufacturer, we are also a go-to distributor for all things related to chain link fencing. We understand the depth and breadth of our clients' requirements, and work with other suppliers so we can offer a complete line of chain link fencing options, chain link gates, chain link accessories, and chain link fencing parts. Our team is filled with true fence experts who live and breath fencing every day.
For contractors seeking dependable chain wire fence distributors, Sharon Fence is a sensible choice for local contractors looking to offer a full line of chain link fencing solutions so you can take any job with confidence. Our vast inventory isn't limited to just fences. We are proud to supply a wide variety of chain link framwork and fencing accessories, ensuring every fencing project you undertake has the foundational elements to be successful and lasting.
If you are looking for a partner to build the fencing portion of your business, we provide support for contractors in and around Sharon, PA, Columbus OH, New Paris, IN, and Buffalo NY. We are not just another chain link fence supplier; we are a partner committed to providing quality, reliability, and comprehensive solutions for all your fencing needs. Whether for commercial or residential projects, with Sharon Fence, you are always in capable hands.
A Chain Link Fencing Supply Company Committed to Supporting Contractors
If you're a contractor, partnering with a chain link fencing distributor & manufacturer can be a real game-changer. Here's how we give you a leg up over your competition when it comes to fencing materials:
Full Line Distributor: Sharon Fence manufactures & stocks a full line of chain link fencing products, ensuring contractors have everything they need to complete a job. This means no more running around to find the chain link fencing supplies you need.
Expertise on Tap: We have expert fencing professionals on our team. Contractors can tap into a wealth of knowledge and experience to make sure they have all of the fencing supplies to get the job done right with fence products made in the USA.
Custom Manufacturing: Need custom gates, a gate post, or  DOT specified fence framework? Sharon Fence has the capabilities. We produce high-quality chain link fabric in-house, ensuring top-notch materials for your projects.
Automation Solutions: With a vast stock of gate operators and access controls our knowledgeable staff can offer solutions to our clients, adding an extra layer of professionalism to their services.
Dependable Delivery: Sharon Fence ensures timely, damage-free deliveries right to the job site. This means contractors can focus on the job at hand without worrying about supply chain hiccups. We strive to be as reliable and hassle free as possible.
Wide Product Range: From chain link to ornamental steel fence, vinyl fence, wood fence, and more, Sharon Fence offers a diverse range of products, allowing contractors to cater to a broader client base.
Temporary Fencing Solutions: For projects that require temporary solutions, Sharon Fence has got contractors covered with products like BigFoot and OxStand.
DOT Approval: For those big projects, it's good to know that Sharon Fence is approved by the Pennsylvania Department of Transportation to fabricate Protective Barrier Fence.
Quality Fencing: Partnering with a reputable manufacturer means you're getting top-notch quality, reducing the chances of defects or premature rust and other issues down the road.
Warranty and Support: If there's an issue with the fencing, a good manufacturer will stand by their product, offering warranties and post-sale support.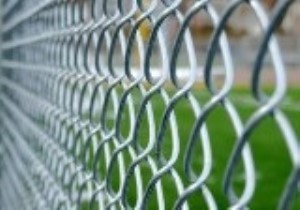 Galvanized Chain Link Fence
Galvanized Before Weave (GBW) or "Pre-Galv" wire has the attractiveness and durability of aluminized at around the same cost as traditional chain link. The pre-galvanizing process eliminates the occurrence of unsightly zinc "icicles", making installation easier and safer. If you've ever cut your hand or caught your shirt on a chain link fence, then you know that the jagged little protrusions left over from the galvanizing process can be a pain, or even dangerous. That's why Sharon Fence is proud to be a supplier of Galvanized Before Weave (GBW) wire, a cleaner, more consistent alternative to traditional Galvanized After Weave (GAW) Wire. Just like the name says, GBW wire is hot dip galvanized strand by strand, resulting in a smooth finish every time. In contrast, with GAW, the whole woven wire mesh fence is galvanized, causing drippage, zinc "icicles", and a frozen mesh that can be hard to stretch during installation. Choose from a wide variety of mesh sizes.
Galvanized chain link fences are a great option for:
Playgrounds

Ball Parks

Kennels

Residences

Schools
See our dedicated galvanized before weave fence page for more information.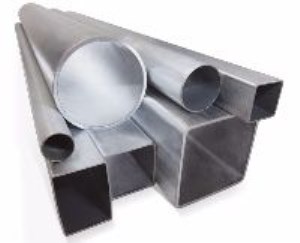 Frameworks
Sharon Fence Company supplies a wide variety of framework products to meet the needs of the industry that meet ASTM F1043 and ASTM F1083 standards.
Framework products that we supply:
Residential grade: 0.065 Tubing and SF15
Commercial grade: SF20 and F1043 SF40
Industrial grade: F1083, Schedule 40…(also referred to as Standard Weight)
We stock galvanized frameworks at all locations. We also stock select items in standard colors of black, brown, and green polyester powder-coated framework. We can color match and special order just about any color needed.
We proudly distribute American-made products from Wheatland Tube and other domestic manufacturers.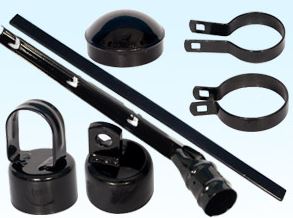 Fittings
At Sharon Fence, we carry a whole line of galvanized chain link fittings. We also stock large selection of color coated fittings, either in polyester powder coating or heavy mill finish. Standard colors include black, brown, and green.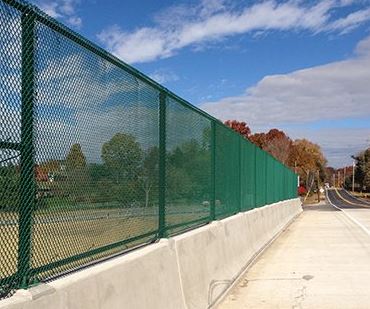 Vinyl Coated Fabric
Color-coated vinyl coating chain link systems have become more popular as an economical way to provide a visually appealing barrier. These systems blend into the surroundings and provide minimal obstruction to the natural scenery. Our vinyl-coated fabric helps our chain link fences stay strong for decades in even the toughest of weather.
Different Grades of Ornamental Color Coated Fabric:
Residential
Residential chain link fence fabric is usually an extruded product with the option of 2 gauges:
Standard Residential: 9-gauge finish with a 12-gauge steel core (Good)
Heavy Residential: 8-gauge finish with an 11-gauge steel core (Best)
The Heavy Residential has a heavy gauge steel core and will be more durable for applications that involve more activity such as providing a boundary for pets or children playing sports involving a ball that may hit the fence.
Commercial/Industrial
Commercial fabric for chain link fence is normally Fused and Bonded with an 8-gauge finish and 9-gauge steel core. 9-gauge steel is the standard for commercial vinyl fencing. It becomes an 8-gauge finish after the Ornamental color protective coating is applied.
Standard Colors
Black Vinyl
Brown Vinyl
Green Vinyl
Custom colors are available
See our dedicated vinyl coated fabric fence page for more information.
Aluminized Fabric
Meets specifications:
ASTM A491

A 817

Federal specification RR-F-191 Type II

AASHTO M-181 Chain Link Fence, Type II
Privacy Overview
Necessary cookies are absolutely essential for the website to function properly. This category only includes cookies that ensures basic functionalities and security features of the website. These cookies do not store any personal information.
Any cookies that may not be particularly necessary for the website to function and is used specifically to collect user personal data via analytics, ads, other embedded contents are termed as non-necessary cookies. It is mandatory to procure user consent prior to running these cookies on your website.