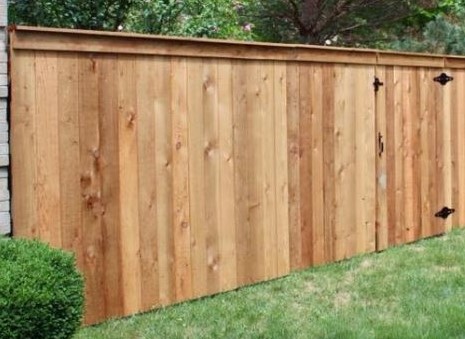 Sharon Select Red Cedar
Western red cedar is a high-quality grade wood that may be priced a little more, but the benefits of a red cedar fence are worth the investment.
Size Matters: Unlike other thin, unstable boards, Sharon Select boards are a true 3/4″ thick which is 20% more wood fiber than the nominal 5/8″ board. This additional thickness provides more strength and stability which leads to a longer lasting fence.
Size Matters: Our rough sawn backrails measure 1-3/4″ x 3-3/4″, again 20% more wood fiber than the competition. Backrails our vital for stability and strength of the fence.
Beautiful Appearance: Sharon Select boards are a blend of the highest grades of western red cedar providing the warm, natural look to any property.
Why Is A Red Cedar Fence Better?
Durability – Red cedar contains natural oils to help resist decaying of the wood, as well as insect attacks, and help maintain it's appearance.  It is highly stable and has minimal shrinkage so the fence will stay straight and sturdy for a long time.
Adaptability – If the homeowner wants to embellish or protect the wood, cedar is one of the best to accept and maintin a wide range of finished from dark to light stains.
Attractiveness – Red cedar always looks sharp, known for the rich grain and vibrant color. Any home with this wooden fence is to be sure to turn heads.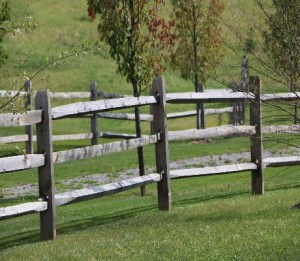 Split Rail
West Virginia Split Rail is often used to add character to a property while creating boundaries economically.
Sharon Fence stocks treated southern yellow pine (SYP) WV Split Rail.  Our Post are treated for ground contact and are designed to last.  Good professional fence installers and landscapers will only offer ground contact rated posts.  You should always verify any treated SYP posts that you purchase be treated for ground contact or you risk the post rotting out within a few years.  There are other treated split rail products that are cheaper that are not treated for ground contact.
Treated
We have a selection of Red Pine and Yellow Pine products.